This guide will show you how to mod Risen 2 with downloads.You will need
:
360Revolution
A risen 2 gamesave
You will be able to mod the following with this mod tool:
Current strength
Max health
Glory
Blades
Firearms
Toughness
Cunning
Voodoo
How to mod Risen 2
Create a gamesave for Risen 2 on your Xbox 360.
Then move the gamesave to your desktop. (
remember to create a backup
)
Open 360Revolution and click on the "
R
" button on your keyboard, then scroll to Risen 2
Now click on the " File " button and select open.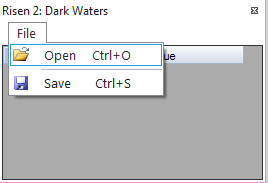 You will now see that you can edit your health , blades and much more.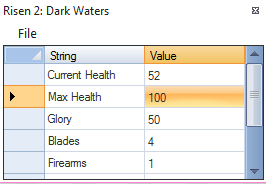 Edit everything how you want and click on file again and select " save "
You will now see a popup like this ,
This means you have succesfully resigned and rehashed your gamesave.
Now move the save back to your memory device, load up and ENJOY!
Massive thanks to c0ma.
Important Note :
(Information by
XPGBETAGAMING
)
If you mod values over 500 it will pop achievements..
voodoo wizard - learn everything to do with voodoo
rogue - learn all about cunning
togue bastard - learn all about toughness
gunsligher - learn all about weapons
blademaster - learn all about blades
If you use
xpg mike gold save,
then edit in 360 rev, load the save up open the chest and pick the $1 gold up, this will then unlock 3 more achievements,
skinflint- acquire 1000 gold 50G
cash cow - acquired 100,000 gold 30G
made of money - acquired 300,000 gold 50G